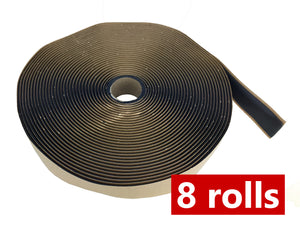 GSSI Sealant
GSSI Putty Tape Butyl Tape 1/8" x 1" x 50' Black, 400ft Roll Sealant (8 rolls of 50ft)
Regular price
$126.00
$0.00
Unit price
per
400ft Roll Sealant (8 rolls of 50ft)
MH-19 is a pressure-sensitive sealant tape and is widely used in the mobile home, RV and modular construction industries and wherever a water tight seal is critical such as roof seams, roof to sidewall, vents, stacks and gutter mountings. It provides excellent sealing adhesion to any type of metal, wood, concrete, glass, plastics and porous surfaces.
Makes construction jobs move smoothly and quickly.
• Superior adhesion • Stronger than standard putty tapes • Easily trimmed with blunt tool • Awled quickly and cleanly • Provides water tight seal • Easy application • Excellent adhesion to sidewalls • No discoloration
For best results, apply in dry conditions above 40°F (4°C).
Note:
MH 19 is a sealant and not a structural adhesive.  Its tacky surface allows the tape to adhere to various substrates to obtain a good seal, but it is not intended to be the sole structural component.  Mechanical fasteners may be needed.
For tackier butyl tape, please see eBay item number: 222851691319 for MB-10A in gray.
---