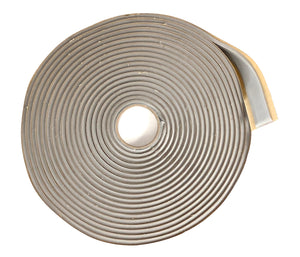 GSSI Sealant
GSSI Putty Tape / Butyl Tape 3/4" x 1/8" x 50' Gray (9 rolls of 50ft) Sealant
Regular price
$129.25
$0.00
Unit price
per
450ft GSSI Putty Tape / Butyl Tape 3/4" x 1/8" x 50' Gray (9 rolls of 50ft)
MB-10A is a premier elastomeric butyl rubber sealant designed to meet the critical requirements of metal buildings. It also meets or exceeds all sealing requirements for window glazing, air conditioning, and refrigeration. Extruded onto silicone coated paper for easy application.
Greater cohesive strength • Superior adhesive strength • Withstands extreme roof temperatures
Superior low temperature compressibility • Cold flow resistant • Resistant to UV light
Seal not affected by normal movement of building • Wide service temperature range
Working Conditions: For best results, apply in dry conditions above 40ºF (4ºC).
UL Classified
---