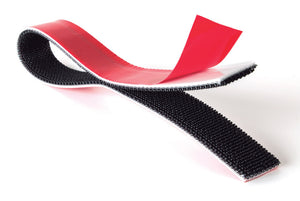 Velcro®
VELCRO® Brand ALFA-LOK™ Reclosable Fastener 1" W (Mated) Suitable for Vinyl, Polyacrylic/PMMA & Polycarbonate
Regular price
$10.75
$0.00
Unit price
per
The VELCRO® Brand ALFA-LOK™ fastener is a strong, self-engaging, multi-directional fastener and is easy to use. The ALFA-LOK quadrilobal mushroom shape ensures a firm and reliable connection and is engaged, at any position, by pressing the two parts together. ALFA-LOK fasteners have been developed for use in a wide range of applications from solar panels, signage and exhibition stands to fixing the interior of trains, cars and buses.
Features:
288 stems per square inch. Stronger than hook and loop fasteners.
    •  Free positionable, re-closable fastening system with a .270" engaged thickness.
    •  General purpose, high performance double sided acrylic foam tape GP11W provides a high initial tack and is resistant to plasticizers. Suitable for most surfaces such as glass, aluminum (anodized, raw), steel (stainless, galvanized), Plywood/MDF, Formica (polished side), Cardboard, Painted Wallboard, Concrete, Stone, ABS, Polyester, Vinyl, Polyacrylic/PMMA and Polycarbonate.
        Shear strength 72 psi

Choose from 4 cut lengths: 1ft, 3ft, 6ft or 10ft
GP11W
---